About Omar Munie
Omar Munie (1986) is a young and talented Dutch designer. Because of his creativity and perseverance, he has become a well-known designer in the Dutch fashion industry. More and more people consider his bags to be the perfect combination of functionality and design.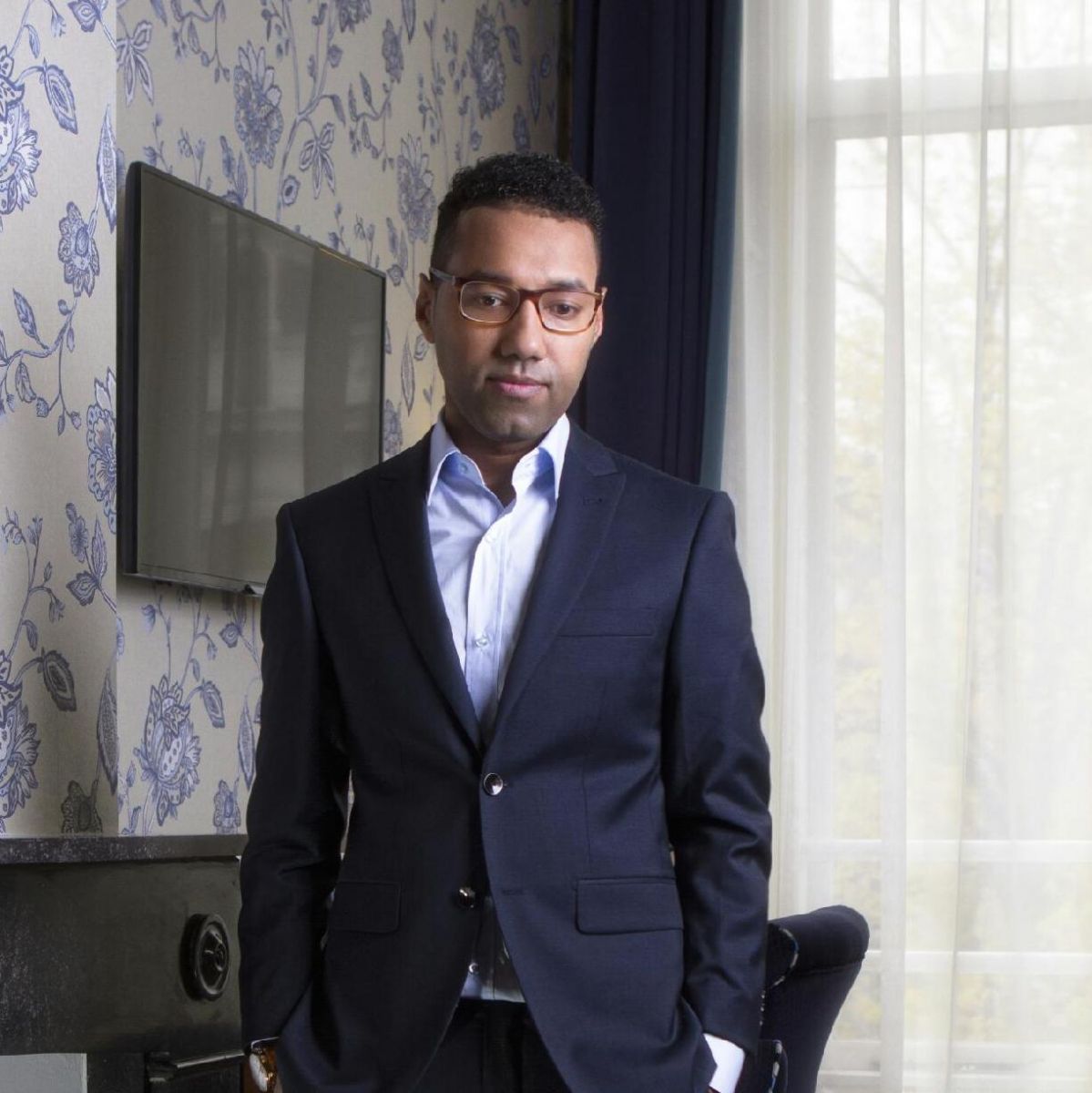 Due to a civil war in his native Somalia, Omar Munie fled to the Netherlands at the age of nine, together with his brothers and sister. . His aim was to start a new life and focus on the future. Omar's mother wanted him to become an accountant but, at a young age, Omar found out that he would rather fulfil his passion for creativity and work as a craftsman. . He went to fashion school and worked hard to develop his talents. Shortly after, Omar made his first handbags, which he instantly sold to the girls in his fashion class. As a result, he founded his own company, Omar Munie Clothing, while he still attended vocational training. After being in business for only six months, Omar was already invited as a guest on Dutch TV shows such as 'Life & Cooking' and 'RTL Boulevard'. He also went to New York to present and sell his bags at Macy's, one of America's largest department stores. A year after the founding of his company, Omar won the prestigious 'Best Student of the Year' award, which gave him the opportunity to start his own atelier on the Binckhorstlaan in The Hague. Subsequent to this 'Best Student of the Year' award, many more awards followed, including 'Best Entrepreneur Under the Age of 25' and 'Most Innovative Entrepreneur 2011'.
Currently, eight years after founding his company, Omar Munie Clothing, Omar has his own Flagship Store on the Noordeinde in The Hague, and he can proudly add many big names to his portfolio. He has designed handbags for the City of The Hague, KLM, Schiphol Airport, and Training Institute De Baak. His bags are also worn by many celebrities, including Hillary Clinton, Jane Fonda, Yfke Sturm and Jessica Mendels.
Omar Munie Clothing also manufactures products by using recycled materials, or in another sustainable manner. These companies will quickly find their way to the Dream Factory KLM, BMW, Schiphol, Training Institute De Baak, and Fair-trade Coffee Moyee were the first companies that worked with the Dream Factory.
The 'Dream Factory' is is an idea developed by Omar Munie, who had this idea for years. Drawing on his own experiences and feedback from people he has met over the course of the years, this new concept was brought to life. The Dream Factory is a powerful concept with a wealth of positivity. It shows that people with a difficult employment history move on, where others give up. They draw strength from their passion for their profession, rather than focusing on what they cannot do. In the Omar Munie Dream Factory, products are exclusively made from recycled or recyclable materials and organic tanned leather. . In this way, a new Munie handbag can be turned from an old jacket, and an old blouse can be created into a new iPad case! Omar Munie Clothing collects their own garments that are used for some of their products.
Omar has also written a book, 'Live your dream' - from refugee with a dream, to living the american dream.
In 2016 heeft hij de Dutch Tulip opgericht, een organisatie die zich inzet voor de Nederlandse samenleving en het vergroten van de samenhorigheid middels het omarmen van vluchtelingen. Dat doen we door hen te helpen hun talenten in te zetten die ze meenemen van het land van herkomst.
With his story about how he came to the Netherlands as a refugee, about how he dreamed of becoming successful and how this dream became a reality, Omar inspires and motivates virtually any kind of audience. The lectures of Omar Munie are an unforgettable experience in which encouraging entrepreneurship and education are key. This makes his lectures very suitable for schools, business events and new entrepreneurs.
Watch Omar's speech intro movie "From refugee with a dream to successful designer.
Omar is also an ambassador of the Kidney Foundation. Watch the video.
Omar Munie is available as an inspirational, motivational and entrepreneurship speaker, as a high school moderator and a guest lecturer. Would you like to offer your clients or staff an unique experience? Then book a lecture at the Omar Munie atelier, Binckhorstlaan 36 in The Hague. Here, Omar will provide his inspiring lecture for groups up to 40 people, combined with his renowned bag clinic. The participants choose their favourite design and personalize their bag, together with Omar Munie. The clinic will be completed stylishly, with a celebratory toast for the final result. Please contact Anne Marie Westra to inquire about further possibilities, by email - annemariewestra@e-plu.nl, or telephone +31- 534347567.
Does the concept of the Dream Factory as mentioned above appeal to you, and are you interested in a Omar Munie product, manufactured by using recycled materials, or in another sustainable manner? Anne Marie Westra will further inform you about this as well.