About Paul Iske
Paul Iske (1961) is professor Open Innovation and Business Venturing at the School of Business and Economics, Maastricht University, Netherlands. He also is a speaker and consultant in the field of innovation, sustainability, and smart business models.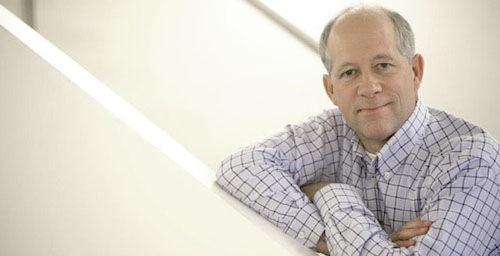 To understand a complex world in general and innovation in particular, he founded the Institute of Brilliant Failures, striving for fear reduction, so that people are not to experiment, and to share their learnings from endeavors that did not meet the expectations.
He also is Co-Founder of the Internationaal Institute for Serious Optimism, that contributes in creating a positive climate in a positive way.
He is Chairman of the Dutch-Norwegian Business Network, which focuses on supporting the creation and realization of mutual business, scientific and social opportunities between the Netherlands and Norway.

Until mid-2015, Paul was associated with ABN AMRO as Chief Dialogues Officer and Head of the Innovation Centre. For his innovative spirit at ABN AMRO, Paul was nominated by Dutch Management Team Magazine and the Dutch Accenture Innovation Awards for "Innovator of the Year" in 2014.
Paul mainly focuses on service and social innovation, with a specialty in "Combinatoric Innovation. Under the authority of SMO (Dutch Society and Entrepreneurship Foundation) he has written a book on Combinatoric Innovation, which will be published in English late 2016. Paul connects in order to create opportunities for an innovative and sustainable value. Paul is founder of the Institute for Brilliant Failures, with the aim of creating understanding for the complexity of innovation and entrepreneurship. Paul has a PhD in theoretical physics and has worked for Shell, where he mainly connected knowledge inside and outside the company.
Paul Iske is a consultant in the field of creativity, innovation, intellectual capital, knowledge and entrepreneurship, both within the private and (semi-) public sector at home and abroad.
In his lectures you will clearly feel his very creative, innovative and entrepreneurial spirit and with his contagious humor, he knows how to enthuse his audience, and even more than that!
Bekijk hieronder een video van Paul Iske over het Instituut voor briljante mislukkingen.
Bekijk hieronder een video waarin Paul Iske tijdens het MediReva Symposium vertelt hoe je succesvol omgaat met verandering: leren van zaken die anders zijn gelopen dan gehoopt.
Bekijk hier een video waarin Paul Iske zijn ideeën over Briljante mislukkingen deelt met zijn publiek tijdens TEDxEutropolis:
Below, you can watch a video, which shows Paul Iske is sharing his ideas about Brilliant failures in healthcare with its audience during TEDxMaastricht:
Paul is available as a social innovation, creativity, knowledge and entrepreneurship speaker, trainer and guest lecturer. Informeer bij Anne Marie Westra naar de verdere mogelijkheden via e-mail - annemariewestra@e-plu.nl, of telefoon +31 53 434 75 67 / +31 6 488 285 77.